Our Private Car Transfer service is economical like a Shuttle Service.


Need an example? A Rome airport shuttle service has a cost ranging from 18€ to 25 € per person. Our full-optional sedans start from 48€ per car (not per person). Already three people save, and in two passengers the rate is equal or only slightly higher. But have you considered the difference in service? No need to go around Rome before arriving at your destination. Our courteous driver will meet and greet you at the pick-up point and take you safely to your Rome hotel, resort or airport.
To check Availability and Prices, select your pickup point and then select your destination. You will be able to book in two easy steps!
Licensed Airport Taxi Transfer Service

Get instant fixed-price quote. Confirmation is immediate!
Avoid expensive Rome taxi rates. But also avoid online "super low cost" transfer fares, because most probably you are buying an airport shuttle service, sometimes advertised as a private. Make sure you get what you paid for – a private air-conditioned vehicle with a punctual and courteous driver. Don't spoil your holiday, a missed flight is costly! Your airport transfer is about comfort and a peace of mind, at first place.
We offer you not only very competitive transfer rates, but safety, insurance protection and 24/7 support.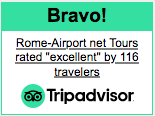 The Rome-Fiumicino airport (IATA Code: FCO), whose official name is "Leonardo da Vinci International Airport", is the main Italian international airport, located in the municipality of Fiumicino, located about 32km southwest from the center of Rome, a few steps from the sea. Together with Ciampino airport it serves the capital of Italy.
Leonardo Da Vinci airport is the largest Italian airport by number of passengers and one of the two Italian international hubs, together with Milan-Malpensa Airport.
In addition to Alitalia, of which Fiumicino is the main hub, 104 airlines operate at Leonardo da Vinci airport.
Despite having a strongly international vocation, there are several low cost airlines that land there, including Ryanair, Vueling or EasyJet and many national flights that connect Rome daily and several times a day to cities such as Milan, Turin, Palermo, Venice or Bologna.
The Fiumicino airport is also connected with various bus lines: from local public transport, passing to lines for Rome, passing through inter-regional lines throughout Italy. The rides start from the "Polo Bus" and can always be consulted both from the monitors in the Arrivals halls and at the stop areas and from the Rome Airports APP.