Take a taxi at Rome Airport can be a very unpleasant experience. At the Rome Airport main terminal, the queue for taxis is long and many passengers find it frustrating to wait in line. The passengers include Italians, tourists and some women with children.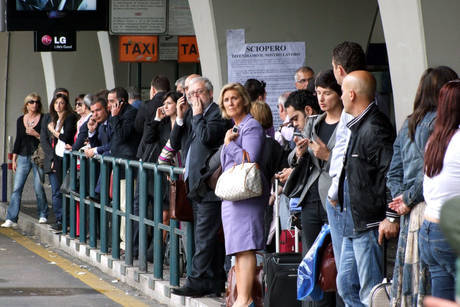 You arrive at Rome Fiumicino airport, pick up your luggage and you walk to the taxi queue. You might be in a hurry. Luckily you only have a few bags. On the other hand, the line is mileage and taxis seem to come with a dropper. So you stand in line waiting your turn to take a cab. Meanwhile time passes and you begin to get nervous. Are you tired and you can not wait to get to the hotel to make a nice shower. After forty minutes it is your turn.
This is a typical situation, which happens to those who decide to come to Rome without having booked a Rome Transportation.
Some problems you might encounter with Rome airport taxis: passengers are advised to check the origin of the taxi company before you get on board, because the taxi fare fixed by the Municipality of Fiumicino to reach the Aurelian Walls (The historical center of Rome) is 60 euro, much higher than prices set from Rome Authorities: 48 euro. A Big difference! So pay attention on this.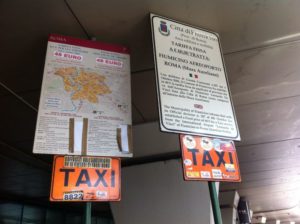 If your destination is outside the Aurelian Walls (the historic center of Rome), the price of the trip is metered. If the rate is meterd, you will pay the supplement also on the number of your luggage. And the price may go up to 60 Euros with ease.
The cars of the Rome taxis are of different sizes, from large (like saloon and sedan) to small, and they are better suited to a business man who travels with 1 sutecase and 1 cabin bag, rather than the family on vacation. So even if you are only two, but if you have more than two large suitcases, a taxi might be a not a good choice.
Credit cards? Impossible to use it.
In conclusion, ok take the Rome airport taxi is an option, but our advice is to book a car in advance, the price is the same (or a little higher in some cases), but the benefits are many: You will get a Personal Meet & Greet. Flights are monitored, you do not have to worries about flight delays. Instant reservation and confirmation.
We have negotiated a very advantageous price, which starts from 45 euro. For more infos, visit our Rome airport shuttle page.
Arriving in Ciampino airport? Ciampino is a small airport, and therefore not very busy, which is because Rome taxi drivers do not like to go there. It is often difficult to find a taxi and you are forced to take the bus.